go to content
essie
nail polish
base & top coats
nail care
virtual try on
nail art
tips & inspirations
about us
authorised retailer
sitemap
faq
contact us
terms of use
privacy policy
facebook
pinterest
youtube
instagram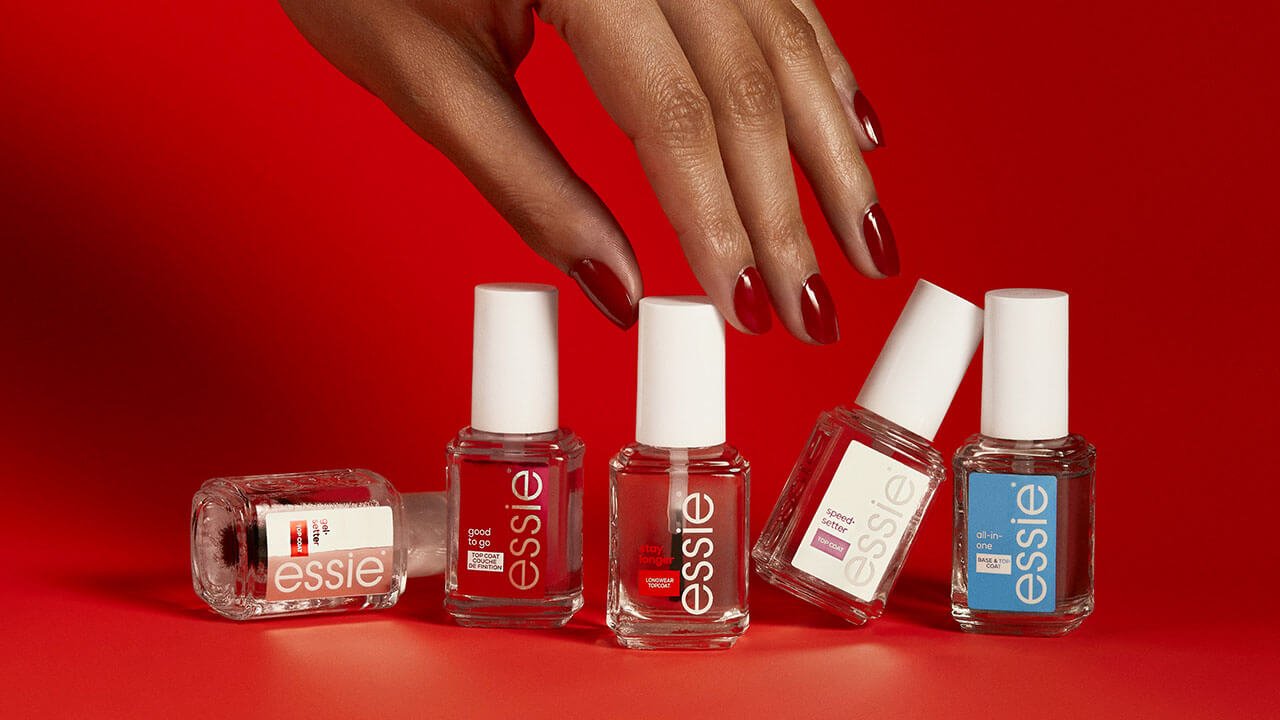 top coats + finishers
whether you're going for a quick-dry gloss, a plump look, or a soft-touch matte finish, an essie top coat finishes your perfect essie manicure.
top coat
stay longer top coat
a premium longwear top coat that keeps your essie color mani smooth, bright, and shiny while protecting against chips for an up to 7 day salon quality manicure
view details
top coat
gel setter
Provides our best wear and shine Seals in colour and provides a gel-like finish Works with any Essie polish No UV lamp needed
view details
top coat
gel couture top coat
Essie Gel Couture Top Coat is an ultra-glossy quick drying top coat that seals and helps protect, to magnify shine for an ultra-glossy finish.
view details
top coat
matte about you
Matte About You evenly transforms nails to have a subtle matte velvet finish
view details
nail care
all in one
All-in-One acts as a base coat, top coat and strengthener for the perfect, long lasting manicure
view details
easy protection with essie all in one top coat nail polish
depending on the final look you're after, essie top coat range has something for every finish. if you're going for a glossy finish, try essie all in one base top coat. this duo base and top coat polish also help strengthen your nails, leaving them feeling smooth and polished.
get the glow with quick dry top coat nail polish
you can also go for a plump look with essie gel couture top coat. this quick-dry nail top coat is designed to seal, protect and magnify shine for a flawless gel-like glow. no base coat is needed to achieve this look! simply apply two coats of gel couture nail polish before applying essie gel couture top coat, and you're all set!
ready to bring this look to life? check out this step-by-step guide on how to do gel-like nails at home using this quick-dry nail top coat.
gel-like finish with essie gel top coat nail polish
another common question about the gel top coat is can you put gel top coat over regular nail polish? yes, and the essie get setter gel top coat is the answer. this clear, gel top coat will give your nails that gel-like finish even when you're using regular nail polish underneath. to apply, use a base coat followed by two coats of your favourite nail colour. then, finish with a layer of the get setter gel top coat for a perfect, long lasting shine.

feeling a little bit adventurous? try our matte about you top coat! this matte top coat can instantly transform high gloss nail polish colours to a beautiful matte finish. pair this matte top coat with your favourite essie enamel nail polish and get that long-lasting, mattifying nails ready to go!
what are you waiting for? achieve that flawless, edgy and long-lasting manicure look only with essie.

looking for more inspo? head to our nail tips and inspirations section for the latest trends, how-tos and more!