go to content
essie
nail polish
base & top coats
nail care
virtual try on
nail art
tips & inspirations
about us
authorised retailer
sitemap
faq
contact us
terms of use
privacy policy
facebook
pinterest
youtube
instagram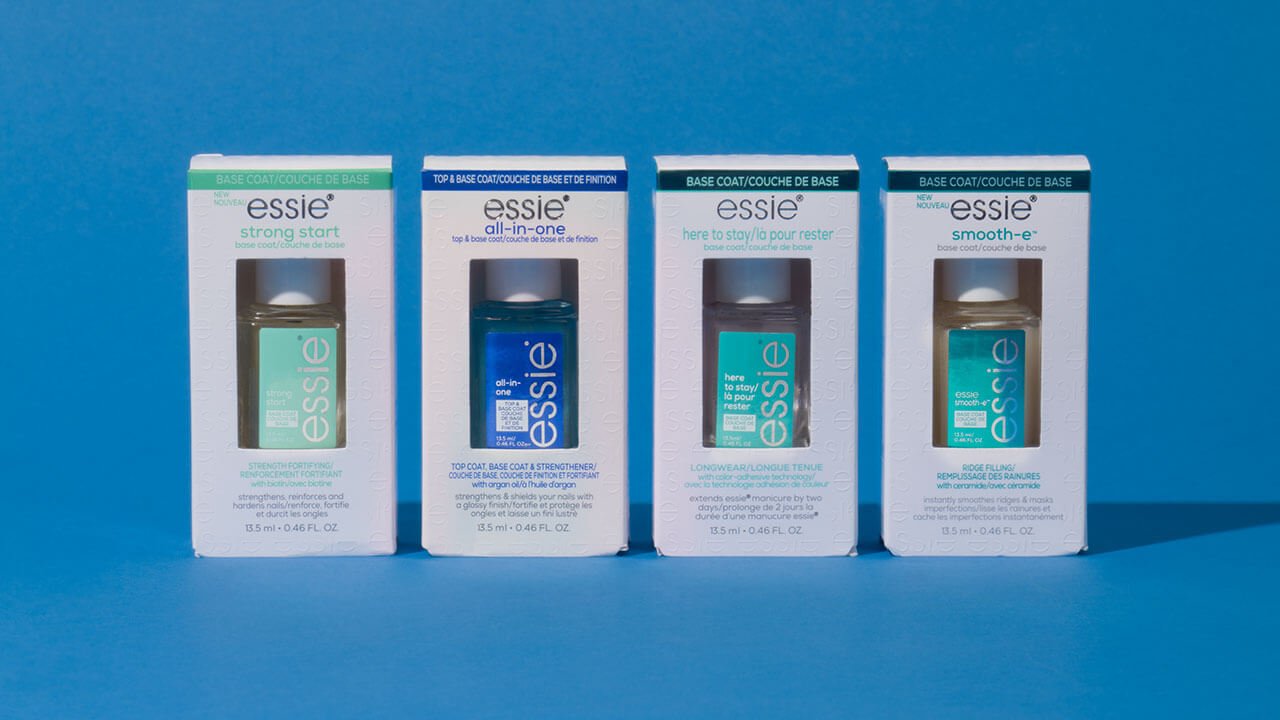 base coats + primers
the rock. the foundation. the base coat. these hardworking base coat formulas create the ideal foundation for enhancing colour and protecting your mani.
nail care
all in one
All-in-One acts as a base coat, top coat and strengthener for the perfect, long lasting manicure
view details
nail care
strong start
This nail polish base coat helps strengthen, reinforce and harden nails.
view details
applying a base coat is an important step you cannot miss when getting ready for an at-home manicure. whether it's regular or gel nails, prepping your nails with a layer of nail polish base coat can do wonders.
what is a nail base coat?
a base coat is typically a clear nail polish formulated specifically to support a sleek application of nail polish during manicure or pedicure.
do you really need to use base coat nail polish?
the answer is yes. Applying a base coat at the start of your manicure process is recommended considering the multiple benefits of base coat nail polish. firstly, base coats help create an extra layer against colour pigments, which can protect your nails from coloured nail polish stains. additionally, base coats also serve as a solid foundation for your nail polish as it resists your manicures from breakage and chipping, so you can get that long-lasting polished nails.
essie base coat nail polish collection
what's even better, you can now choose your go-to from essie's base coat nail polish collection. If you prefer an all-in-one approach to your base, try essie's all-in-one base top coat. this clear nail polish base and top coat are designed to give your nails a smoother and glossy finish. you can also go for a strengthening polish withessie strong start nail polish base coat. infused with biotin, this nail strengthening polish helps support weak and brittle nails. formulated free from toxic ingredients, say goodbye to peeling and chipping nails with essie strong start nail polish base coat.
how to use base coat nail polish?
applying base coat nail polish is simple and easy! all you need to do is make sure your nails are clean and dry before applying a layer of your chosen clear nail polish base coat. then proceed to lay two coats of your favourite nail polish colours. you can also seal your manicures with an extra layer of essie top coat nail polish to protect and achieve your desired finish. looking for more tips? check out our step-by-step guide on the perfect at-home manicures.