go to content
essie
nail polish
base & top coats
nail care
virtual try on
nail art
tips & inspirations
about us
authorised retailer
sitemap
faq
contact us
terms of use
privacy policy
facebook
pinterest
youtube
instagram
tips & trends
the guide to long lasting nail polish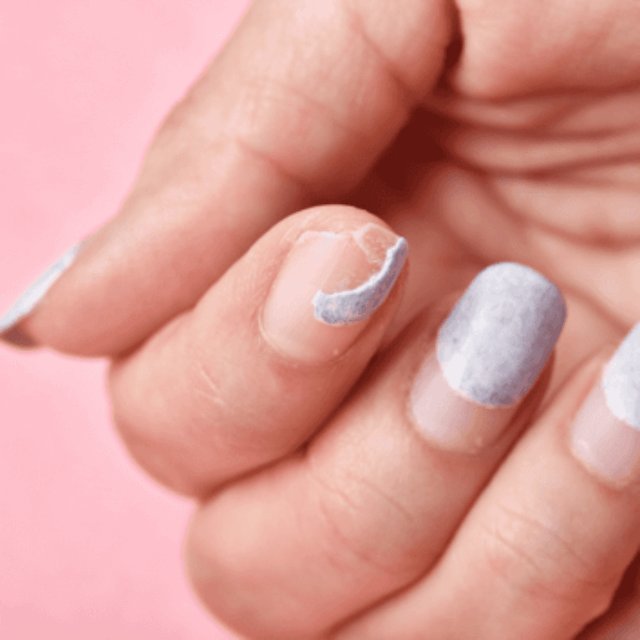 whether you're stepping out to hit up the dancefloor, soak in some vitamin d on the beach or check out that vibey new brunch spot… the last thing you want is to look down and see your once impeccable mani chipped, flaking and generally worse for wear. the question of how to stop nail polish from chipping has been around for as long as nail polish itself has, so today, we're going to help you master long lasting nail polish for good.
how to stop nail polish from chipping
here's the first stop on your mission to learn how to make nail polish last: make sure you're starting with a healthy canvas. your nails are the foundation to your perfect manicure, and long lasting nail polish requires a clean, sturdy base. a base coat can help you get there – and essie's take on a base coat slash nail strengthening solution is strong start. the vegan, strength-boosting formula helps nails resist chipping and peeling for long lasting nail polish, while biotin works to fortify nails over time.
do: refresh top coat every few days
top coat shields your manicure from the elements and can kick the finish up a notch too. for a high-shine, gel-like finish, essie's gel couture top coat could be the one for you – it can last for up to 12 days with chip resistance. for a fashion-forward matte finish, choose matte about you. to get the most out of your mani, we recommend re-applying a thin coat of your top coat of choice every few days.
do: apply cuticle oil
keep nail beds soft and nourished by adding cuticle oil to your night-time routine. simply pop a bottle of essie's apricot cuticle oil on your bedside and massage a few drops into your cuticles each night for hours of uninterrupted hydration. healthy nails means long lasting nail polish!
do: use longwear nail polish
if you're ready for a serious colour commitment, try essie's gel couture. it's our two-step, longwear polish system that wears longer than classic enamel – no soaking or uv lamp required. opting for a longwear formula is a sure-fire way to extend the life of your mani and get that coveted long lasting nail polish effect.
don't: soak your hands
our next recommendation for how to stop nail polish from chipping is to avoid soaking nails in hot water. don a pair of rubber gloves when washing up and aim to keep your hands dry when possible – as keeping your fingertips submerged in hot water for long periods will encourage polish to lift and flake.
don't: expose your nails to staining
foods like beetroot and turmeric (although delicious) can add an unwanted tinge to your manicure that'll have you reaching for the nail polish remover prematurely. whenever possible, try to use gloves when preparing these ingredients and a utensil when consuming them to keep your nail pigment the shade you intended.
don't: peel your nails
goes without saying - or something we're all secretly guilty of? if you can prevent your polish from lifting and chipping with the steps above, you'll be less likely to pick and scrape your mani into oblivion. if all else fails and you find yourself ready to indulge in a polish-picking session – remember, why pick your nails when you can pick your next favourite essie shade?
how long does essie nail polish last?
a bottle of essie nail polish can last up to two years with proper care – just make sure you're securing your polish airtight after each use. meanwhile, an essie manicure using gel setter will have your fingertips glossy and pigmented for up to two weeks at a time. for the best long lasting nail polish, be gentle with your nails, and don't skip on top coat to seal the deal.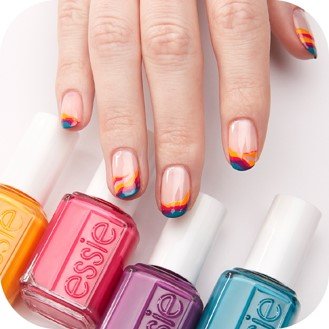 you better shape up: learn how to file your nails like an expert next.
---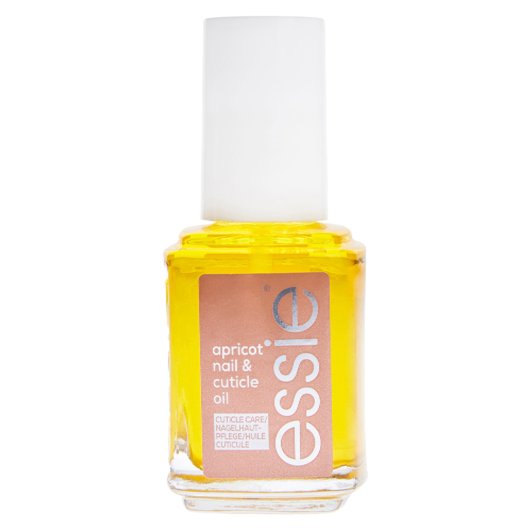 nail care
apricot cuticle oil
<h1 style="font-size:19px;">apricot cuticle oil</h1> <h2 style="font-size:16px;"><strong>&nbsp;nourish and revitalise your cuticles with essie's apricot cuticle oil</strong></h2> <p>you've heard about - meet the iconic apricot <strong>cuticle oil</strong> from essie Australia. this luxurious nail care product is designed to nourish, moisturise and revitalise your cuticles while giving you the ultimate pampering experience at home!&nbsp;</p> <h2 style="font-size:16px;"><strong>why we love the apricot cuticle nail oil</strong></h2> <p>our cuticle oil is enriched with a blend of apricot kernel and jojoba oil for a perfect formula to hydrate and soften the cuticles, preventing dryness and promoting healthy nail growth. the <strong>nail oil</strong>'s lightweight texture also allows for quick absorption, leaving your cuticles and nails with a non-greasy finish. instead, you'll get neat, polished and healthy cuticles in every application.&nbsp;</p> <h2 style="font-size:16px;"><strong>how to use the essie apricot cuticle oil</strong></h2> <p>apply a small amount to each cuticle and gently massage in a circular motion. this can be done as often as you like, but regular use is recommended for optimal results. the oil can be applied on bare nails or over your favourite nail polish. for extra pampering treatment, consider applying the cuticle oil before bed and leaving it overnight. this allows the oil to penetrate deeply and nourish the cuticles while you sleep, leaving you with beautifully hydrated and conditioned cuticles in the morning.</p>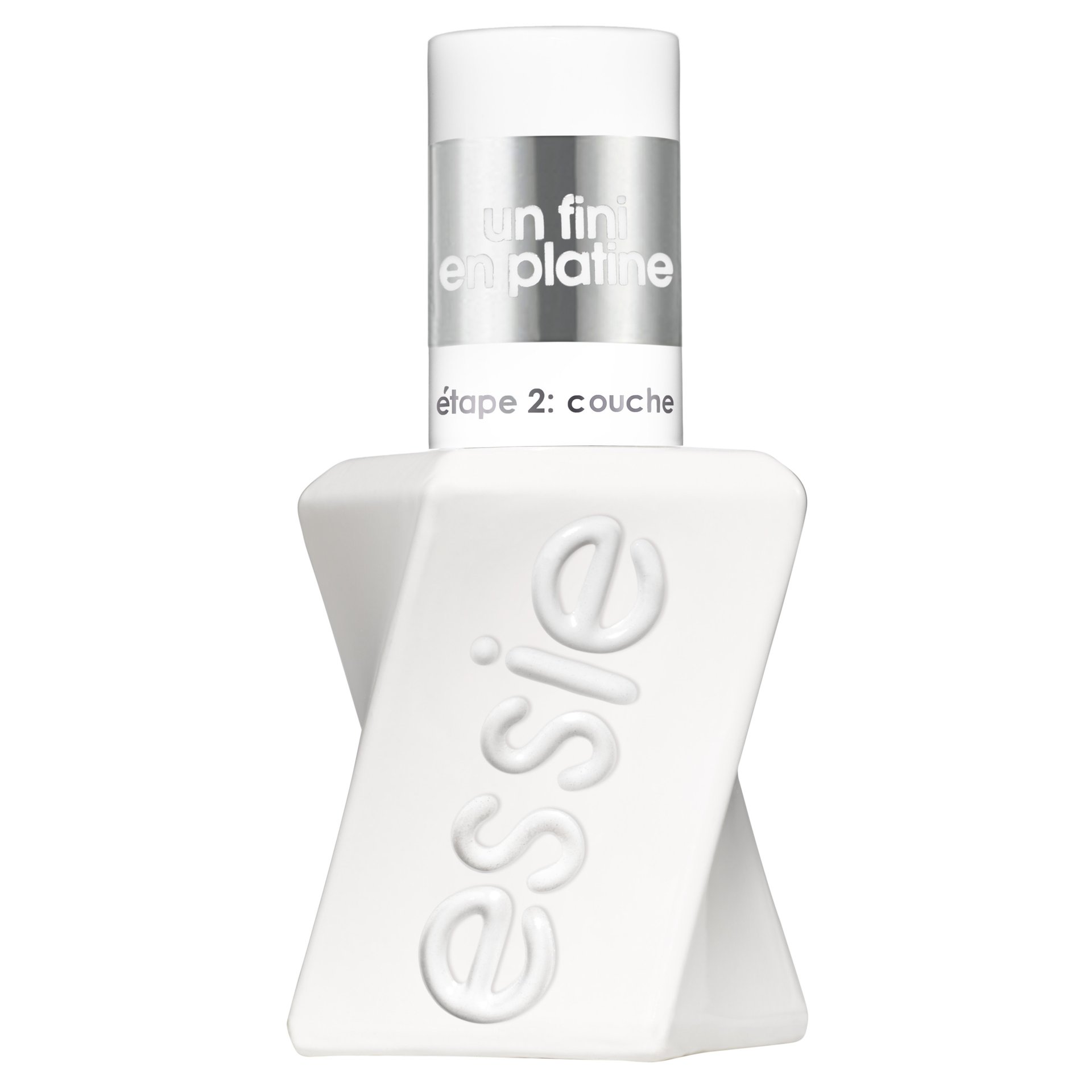 top coat
gel couture top coat
<h1 style="font-size:19px;">gel couture quick dry top coat nail polish</h1> <h2 style="font-size:16px;"><strong>salon-worthy manicures with gel couture quick dry top coat</strong></h2> <p>say goodbye to waiting for your nails to dry and hello to stunning, long-lasting nail colour with the gel couture <strong>quick dry top coat</strong> from <a></a><a href="/">essie Australia</a>. Whether you're a nail enthusiast or simply looking for a long-lasting manicure, the gel couture top coat is a game-changer. this gel top coat is designed to provide a flawless, gel-like finish while delivering a high-shine, salon-quality result. definitely a must-have addition to your<a href="https://www.essie.com.au/at-home-manicure-guide"> at-home manicure</a> routine!</p> <h2 style="font-size:16px;"><strong>unleash the power of essie gel couture quick dry top coat</strong></h2> <p>why this top coat is so good? it has a quick-drying formula that saves you time and delivers a glossy, gel-like finish. the iconic essie gel couture<strong> quick dry top coat</strong> polish also helps seal your nail colour and provides chip-resistant wear that lasts up to 14 days.&nbsp;</p> <h2 style="font-size:16px;"><strong>why we love the essie gel couture quick dry top coat:</strong></h2> <ul style="list-style-type: disc;"> <li><span>a salon-quality, vegan and 8-free formula without formaldehyde </span></li> <li><span>provides flawless coverage along with outstanding durability </span></li> <li><span>designed exclusively with an easy glide brush for quick, even professional application on nails</span></li> </ul>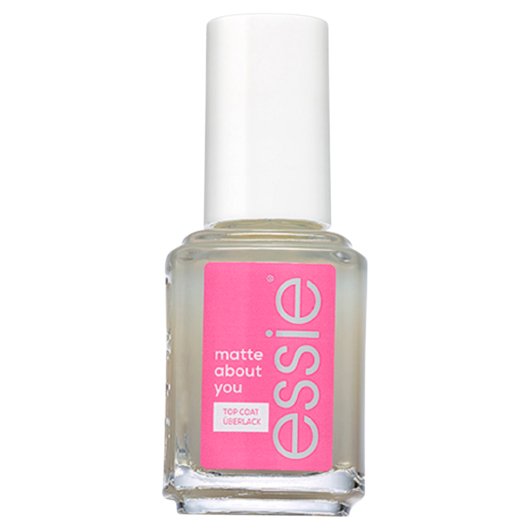 top coat
matte about you
<style type="text/css"> p.p1 {margin: 0.0px 0.0px 0.0px 0.0px; font: 12.0px 'Lucida Grande'; colour: #000000} </style> <h1 style="font-size:19px;">Matte About You Matte Top Coat </h1> <p class="p1">Instantly transform colour from high-gloss to matte with this essie&reg; matte about you top coat.<span class="Apple-converted-space">&nbsp; </span>The smooth, matte finish can be used with any essie enamel polish.</p>
---