go to content
essie
nail polish
base & top coats
nail care
virtual try on
nail art
tips & inspirations
about us
authorised retailer
sitemap
faq
contact us
terms of use
privacy policy
facebook
pinterest
youtube
instagram
nail art
banded arrows nail art
negative space arrow nail art design featuring coral, turquiose and white shades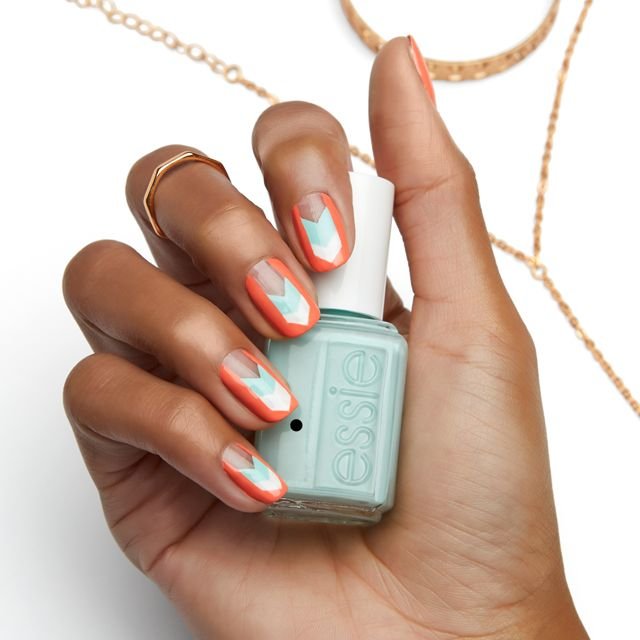 step 1: after a thin layer of essie colour corrector for nails, apply a mint candy apple in a v-shape halfway up.
step 2: above mint candy apple, apply a v of blanc.
step 3: starting at the base of the nail, go around the edge of the nail on both sides using tart deco and create a v at the top above blanc.
Step 4: seal with gel.setter top coat.
---
shop this post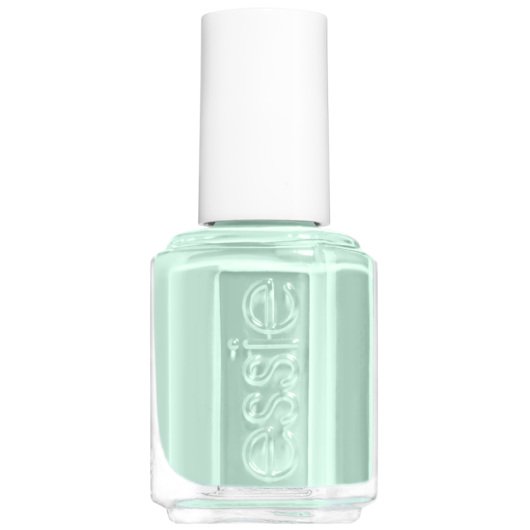 enamel
mint candy apple
essie&rsquo;s adorable cr&egrave;me de menthe mint nail polish is perfect in any season. don&rsquo;t be fooled by its sweet exterior, this apple bites back. <p><span>&nbsp;</span></p> <p><strong><span>essie enamel product benefits:</span></strong></p> <ul style="list-style-type: disc;"> <li><span>extensive color palette with hundreds of shades&nbsp;</span></li> <li><span>high, glossy shine finish&nbsp;</span></li> <li><span>provides flawless coverage along with outstanding durability&nbsp;</span></li> <li><span>brush fits every nail size for streak-free application</span></li> </ul>
enamel
blanc
brush on the perfect french manicure tip with ease. full coverage, pure snowy white lacquer creates an elegant, smooth line every time.DBP, Toluene and Formaldehyde free. <p><span>&nbsp;</span></p> <p><strong><span>essie enamel product benefits:</span></strong></p> <ul style="list-style-type: disc;"> <li><span>extensive color palette with hundreds of shades&nbsp;</span></li> <li><span>high, glossy shine finish&nbsp;</span></li> <li><span>provides flawless coverage along with outstanding durability&nbsp;</span></li> <li><span>brush fits every nail size for streak-free application</span></li> </ul>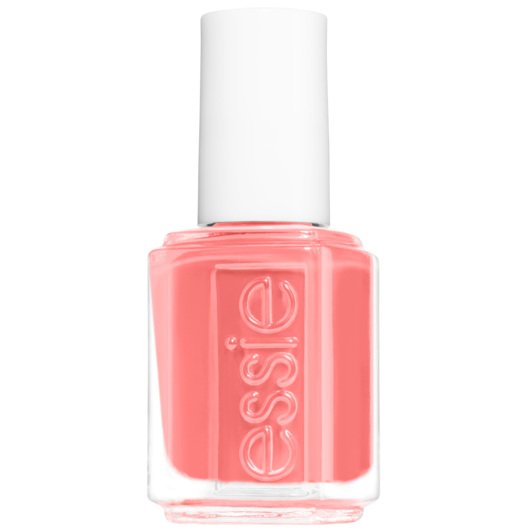 enamel
tart deco
sassy, stylish and darling, just so south beach. chic and modern, this dreamy coral nail lacquer is an artistic burst of color that creates a manicure masterpiece. <p><span>&nbsp;</span></p> <p><strong><span>essie enamel product benefits:</span></strong></p> <ul style="list-style-type: disc;"> <li><span>extensive color palette with hundreds of shades&nbsp;</span></li> <li><span>high, glossy shine finish&nbsp;</span></li> <li><span>provides flawless coverage along with outstanding durability&nbsp;</span></li> <li><span>brush fits every nail size for streak-free application</span></li> </ul>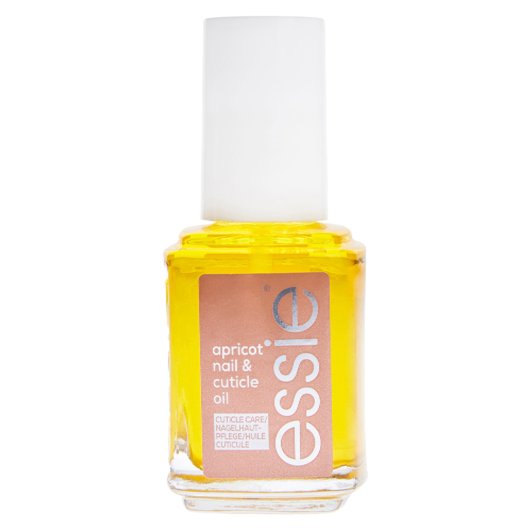 nail care
apricot cuticle oil
<h1 style="font-size:19px;">apricot cuticle oil</h1> <h2 style="font-size:16px;"><strong>&nbsp;nourish and revitalise your cuticles with essie's apricot cuticle oil</strong></h2> <p>you've heard about - meet the iconic apricot <strong>cuticle oil</strong> from essie Australia. this luxurious nail care product is designed to nourish, moisturise and revitalise your cuticles while giving you the ultimate pampering experience at home!&nbsp;</p> <h2 style="font-size:16px;"><strong>why we love the apricot cuticle nail oil</strong></h2> <p>our cuticle oil is enriched with a blend of apricot kernel and jojoba oil for a perfect formula to hydrate and soften the cuticles, preventing dryness and promoting healthy nail growth. the <strong>nail oil</strong>'s lightweight texture also allows for quick absorption, leaving your cuticles and nails with a non-greasy finish. instead, you'll get neat, polished and healthy cuticles in every application.&nbsp;</p> <h2 style="font-size:16px;"><strong>how to use the essie apricot cuticle oil</strong></h2> <p>apply a small amount to each cuticle and gently massage in a circular motion. this can be done as often as you like, but regular use is recommended for optimal results. the oil can be applied on bare nails or over your favourite nail polish. for extra pampering treatment, consider applying the cuticle oil before bed and leaving it overnight. this allows the oil to penetrate deeply and nourish the cuticles while you sleep, leaving you with beautifully hydrated and conditioned cuticles in the morning.</p>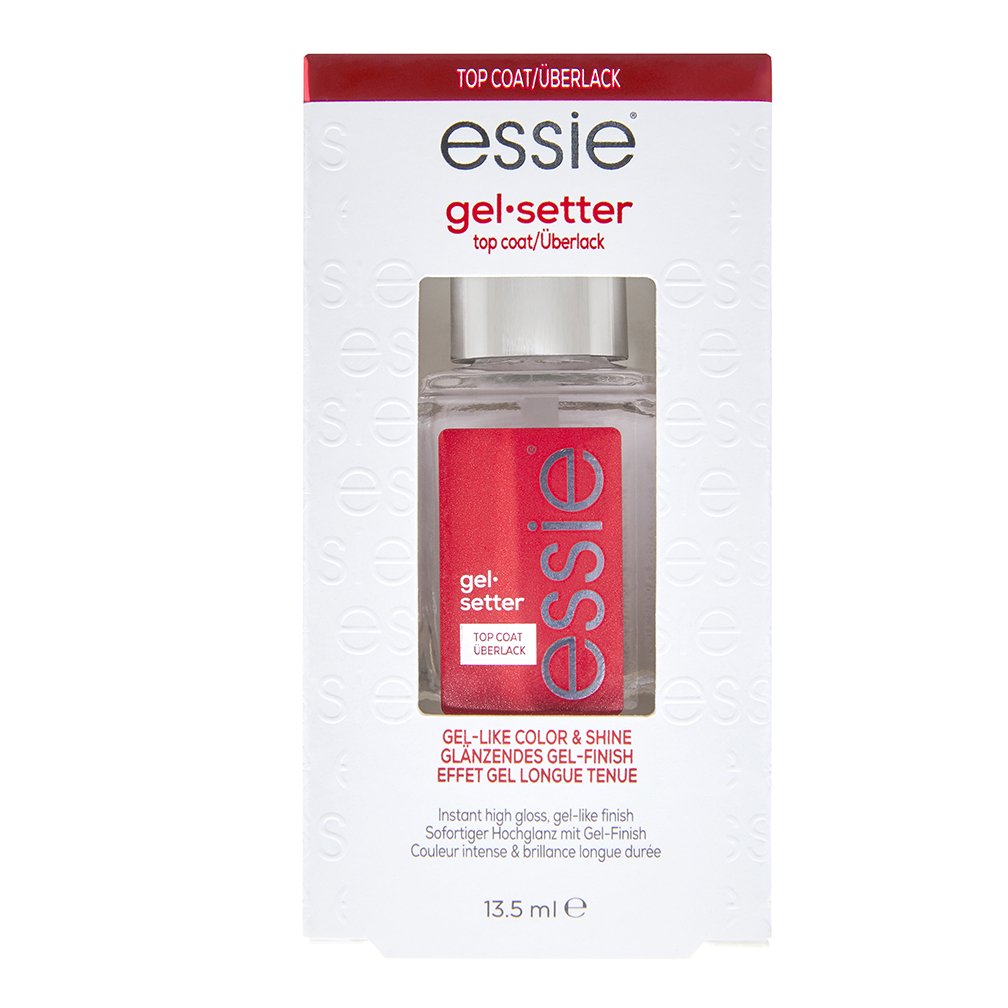 top coat
gel setter
<style type="text/css"> p.p1 {margin: 0.0px 0.0px 0.0px 0.0px; font: 12.0px 'Lucida Grande'; colour: #000000} </style> <h1 style="font-size:19px;">Gel Setter Gel Top Coat </h1> <p class="p1">A clear topcoat that will give your nails gel-like essie colour and shine day after day.</p>
---