go to content
essie
nail polish
base & top coats
nail care
virtual try on
nail art
tips & inspirations
about us
authorised retailer
sitemap
faq
contact us
terms of use
privacy policy
facebook
pinterest
youtube
instagram
tips & trends
4 easy hacks to strengthen your nails
While strong nails can often be attributed to blessed genetics, there are simple – and gorgeous – ways for those with historically brittle or breakage-prone tips to strengthen nails.

As with hair and skin, positive lifestyle habits and self-care routines like nail care promote beauty and strength. Whether yours tend to weaken in certain types of weather or are prone to snapping year-round, a few changes and helpful steps will have you tapping those nails fear-free.

If you're wondering how to strengthen nails for the long term, your full-proof solution can be found here. What matters most is the supportive formulas used and how well you stick to your nail strengthener routine. To help make it easy-to-achieve, we've compiled a simple 5-step routine, including strengthening nail polish and the best ways to apply it. Before painting on your selected nail polish, view our comprehensive nail strengthener routine for shine and strength.
what causes nails to weaken?
Torn nails can ruin an otherwise perfectly toned set – causing uneven nail length and forcing you to start again from square one. Apart from the aesthetic drawbacks, brittle, weak and breakage-prone nails make simple daily activities a struggle. If snagging cracked nails through hair, on buttons and zips or when washing dishes sounds familiar, this guide's for you. Before thinking about the nail strengthener solution, it's helpful to understand the motivators behind weak nails. Genetics can play a part, but other factors you may not be aware of include:

• Extreme weather
• Chemicals found in cleaning products
• Over-exposure to moisture
• Lack of sleep
• Stripping shampoos
• Shellac, SNS or acrylic manicures
nail strengthener routine
To ensure your nails maintain length alongside shine and durability, a proper nail strengthener routine should be followed. In the same way that skincare routines are used morning and night, your nail care tips should be followed even when nails feel strong.

Good habits play a big part. Protecting your hands by wearing washing up gloves when cleaning and winter gloves in cold weather, and eating a nutrient-rich diet all contribute to strong nails. To accompany positive lifestyle habits, see the range of essie strengthening nail polish and other easy steps for how to strengthen nails.
1. apply cuticle oil daily
The hydrating oil applied to nail beds at the end of manicures isn't restricted to the salon. Cuticles – the layer of skin found at the edge of your nails – perform a really important function, protecting growth by prohibiting bacteria from breaching the area. However, cuticles are delicate themselves – becoming dry or damaged without proper hydration. That's where cuticle oil, the nourishing and quickly absorbing helper comes in. Our vegan Apricot Oil Cuticle Treatment ensures deep hydration through nourishing ingredients like apricot and jojoba oil. Use the soft brush application 1-2 times per day for best results.
2. use top and base coats
For nail polish lovers, changing colours regularly is a way to show off individual style. To ensure that constant application doesn't wear down nails, you should always prep and follow with top coats and base coats. To begin, a bottom coat is used to prevent nails from chipping and breaking. Strong Start bottom coat is infused with biotin for beautifully boosted nail strengthening. Then, to protect polish from peeling and to retain a beautiful shine, a layer of Gel Setter top coat should be applied after polish. For a matte look use Matte About You top coat.
3. supplement with nail strengthener tints
If growing your nails (and keeping them the same length) feels like an impossible task, mixing up your nail polish with a nail strengthener could help. To address damaged nails or to get the length you're after, opt for essie nail polish strengthener between colour applications. Hard To Resist Nail Strengthener Pink Tint protects against daily wear using nail bonding technology, and leaves a natural shine. Hard To Resist Nail Strengthener Purple Tint neutralises yellowness and brightens nails.
4. only use nail polish that contains supportive formulas
Whether you're after longwear polish, enamel or the latest colour, essie's range of polish help to support the strength of your nails. The right polish will provide extensive colour wear with a stunning finish – and our formulas help to keep you on-trend. When applying always start with cleaned nails, to ensure any impurities have been cleared. Use one layer of base coat, and two coats of your chosen essie colour. When applying your colour, make sure to polish along the tip of the nail. Finish with one layer of an essie top coat, and you'll enjoy flawless coverage with amazing durability.
Now that you know how to strengthen your nails for brilliant shine, discover some of our other top tips. Keep reading to find out how to file and trim your nails for your ideal shape.
---
shop this post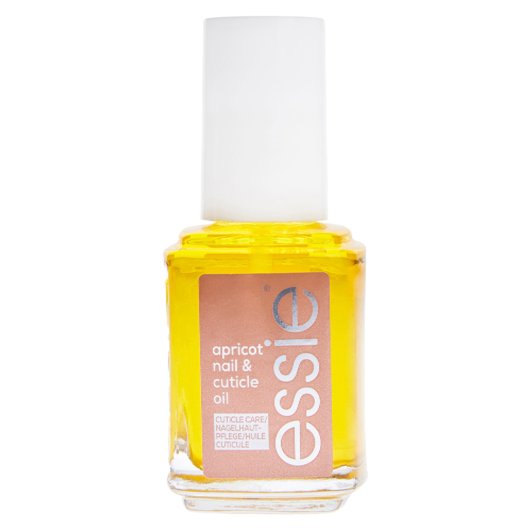 nail care
apricot cuticle oil
<h1 style="font-size:19px;">apricot cuticle oil</h1> <h2 style="font-size:16px;"><strong>&nbsp;nourish and revitalise your cuticles with essie's apricot cuticle oil</strong></h2> <p>you've heard about - meet the iconic apricot <strong>cuticle oil</strong> from essie Australia. this luxurious nail care product is designed to nourish, moisturise and revitalise your cuticles while giving you the ultimate pampering experience at home!&nbsp;</p> <h2 style="font-size:16px;"><strong>why we love the apricot cuticle nail oil</strong></h2> <p>our cuticle oil is enriched with a blend of apricot kernel and jojoba oil for a perfect formula to hydrate and soften the cuticles, preventing dryness and promoting healthy nail growth. the <strong>nail oil</strong>'s lightweight texture also allows for quick absorption, leaving your cuticles and nails with a non-greasy finish. instead, you'll get neat, polished and healthy cuticles in every application.&nbsp;</p> <h2 style="font-size:16px;"><strong>how to use the essie apricot cuticle oil</strong></h2> <p>apply a small amount to each cuticle and gently massage in a circular motion. this can be done as often as you like, but regular use is recommended for optimal results. the oil can be applied on bare nails or over your favourite nail polish. for extra pampering treatment, consider applying the cuticle oil before bed and leaving it overnight. this allows the oil to penetrate deeply and nourish the cuticles while you sleep, leaving you with beautifully hydrated and conditioned cuticles in the morning.</p>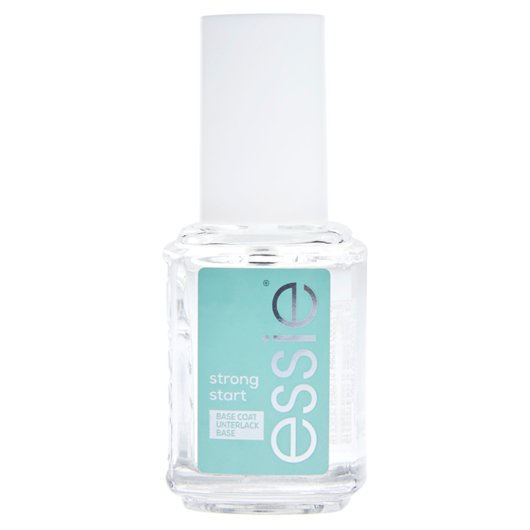 nail care
strong start
<h1 style="font-size:19px;">Strong Start Nail Strengthening Base Coat</h1> essie Strong Start nail polish base coat is our champion of strengthening. The strength boosting formula, infused with biotin, helps reinforce weak and brittle nails.<br /> <br /> The result: a beautiful manicure due to stronger nails being more resistant to peeling, chipping and breakage. essie brings you all your favourite shades, from versatile neutrals to show-stopping icons. With a formula and a brush that takes advantage of the very best salon-professional technology.<br /> <br /> <span style="background-color: #ffffff; color: #333333;">Professional nail expert from the US, since 1981. Essie aims to inspire a love for the manicure experience with a wit and style that touches the hearts of women everywhere. Essie is the go-to nail brand for beauty professionals, industry insiders, celebrities and fashion icons around the world. As the colour authority, Essie is centre&nbsp;stage on runways around the world, offering highly-anticipated colour collections that drive trends season after season. The salon-quality formula and catchy, whimsical names has led to the creation of more than 1,000 shades. Essie is a leader in nail luxury, committed to high-quality standards with an award-winning line of polishes and nail care products for every woman and salon professional. Since its introduction by Essie Weingarten, Essie has delighted the colour-obsessed with a love shared all over the world.</span><br style="color: #333333; background-color: #ffffff;" /> <br style="color: #333333; background-color: #ffffff;" /> <span style="background-color: #ffffff; color: #333333;">Goes well with</span><br style="color: #333333; background-color: #ffffff;" /> <span style="background-color: #ffffff; color: #333333;">Any Essie nail colour and top coat</span>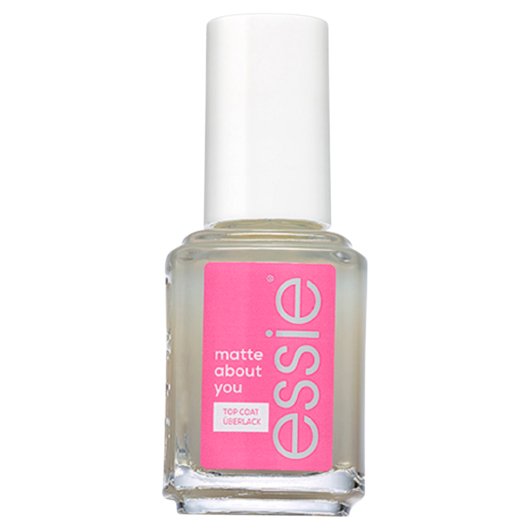 top coat
matte about you
<style type="text/css"> p.p1 {margin: 0.0px 0.0px 0.0px 0.0px; font: 12.0px 'Lucida Grande'; colour: #000000} </style> <h1 style="font-size:19px;">Matte About You Matte Top Coat </h1> <p class="p1">Instantly transform colour from high-gloss to matte with this essie&reg; matte about you top coat.<span class="Apple-converted-space">&nbsp; </span>The smooth, matte finish can be used with any essie enamel polish.</p>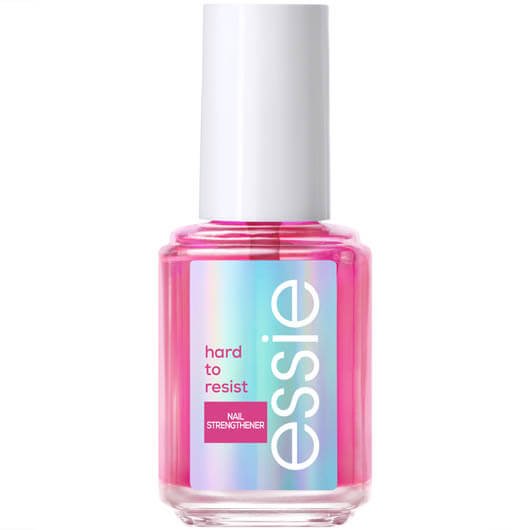 nail care
hard to resist nail strengthener - pink tint
<h2 style="font-size:16px;"><strong>strengthen your nails with essie's hard-to-resist nail strengthener in pink tint</strong></h2> <p>embrace the power of pink, and say goodbye to weak and brittle nails so you can take over the world one chip-free day at a time. part of essie's iconic<a href="https://www.essie.com.au/nail-care/treatment"> nail treatment collection</a>, this <strong>pink tint nail strengthener</strong> is packed with nourishing ingredients that tirelessly fortify your nails, making them as strong as diamonds (well, almost!).&nbsp; </p> <h2 style="font-size: 16px;"><strong>the pink-tinted nail strengthener works like a charm!&nbsp;</strong></h2> <p>the nail strengthener in pink tint by <a href="https://www.essie.com.au/">essie Australia</a> is formulated with essential nutrients and vitamins that nurture your nails from within. using clinically tested strength and nail bonding technology, this <strong>essie hard to resist pink </strong>tint creates a shield of protection around your nails, so you can finally indulge in all those fabulous activities without a second thought. get ready to embrace a world of long-lasting, dazzling nails that radiate your natural glow!&nbsp; </p> <h2 style="font-size: 16px;"><strong>why we love the essie nail strengthener pink tint</strong></h2> <ul style="list-style-type: disc;"> <li><span><strong>delivers stronger nails: </strong>93% essie lovers were satisfied nails felt stronger*</span></li> <li><span><strong>features nail bonding technology:</strong> 96% agree nails look smooth**</span></li> <li><span><strong>creates a protective barrier:</strong> against daily wear and tear. </span></li> <li><span><strong>offers pink tint for radiance: </strong>96% agree it provides nails with a natural glow**</span></li> <li><span><strong>comes with an easy glide brush:</strong> designed with an exclusive shaped brush for quick, even application</span></li> </ul>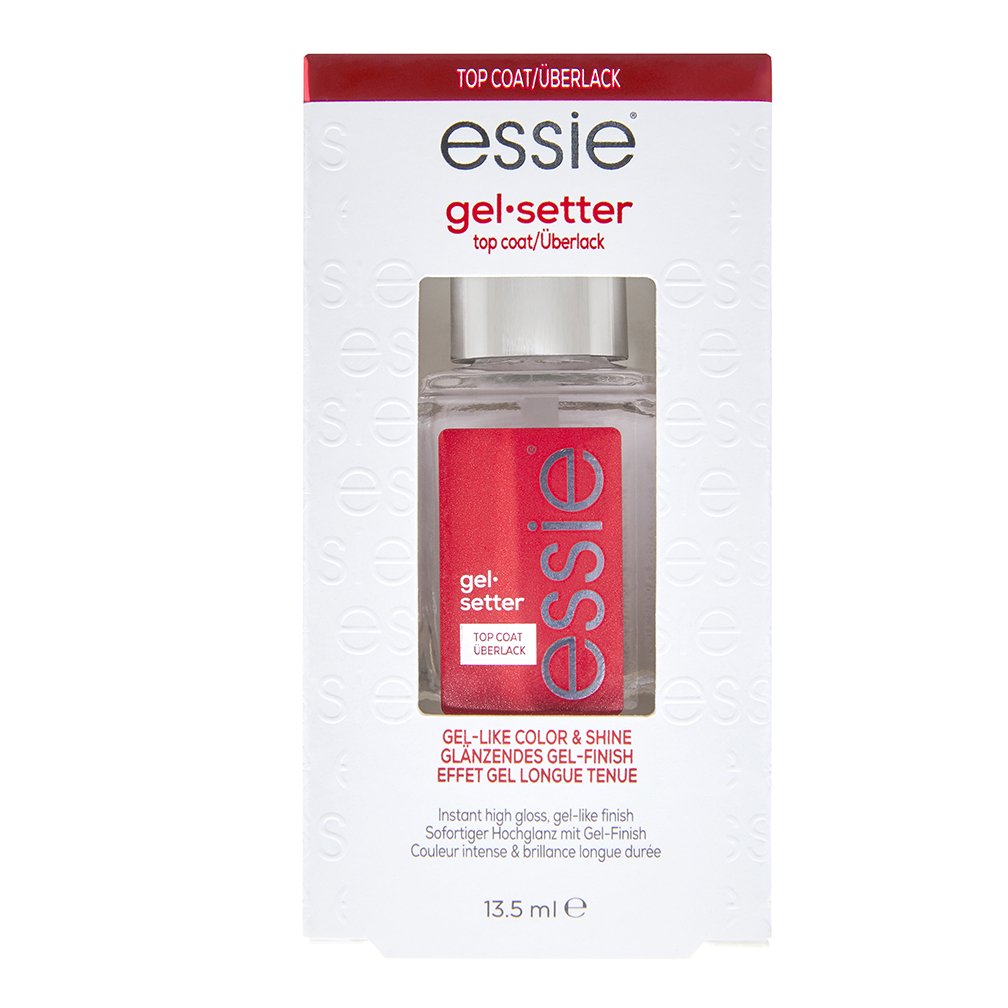 top coat
gel setter
<style type="text/css"> p.p1 {margin: 0.0px 0.0px 0.0px 0.0px; font: 12.0px 'Lucida Grande'; colour: #000000} </style> <h1 style="font-size:19px;">Gel Setter Gel Top Coat </h1> <p class="p1">A clear topcoat that will give your nails gel-like essie colour and shine day after day.</p>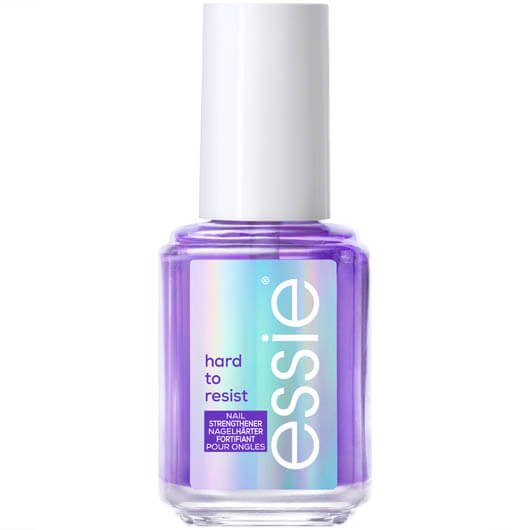 nail care
hard to resist nail strengthener - purple tint
<p>Hard To Resist Nail Strengthener creates a protective barrier against&nbsp; daily wear and tear, so you can nail every moment! Using clinically tested strength and nail bonding technology, 93% were satisfied nails felt stronger.*Choose the pink tint for a natural glow and shine, or the purple tint to neutralise yellowness and brighten.&nbsp;</p> <p><strong>Hard To Resist nail strengthener benefits:</strong></p> &bull; <strong>Stronger Nails:</strong> 93% were satisfied nails felt stronger* <br /> &bull;<strong> Nail Bonding Technology</strong>: 96% agree nails look smooth** <br /> &bull; <strong>Protective Barrier:</strong> Against daily wear and tear. <br /> &bull; <strong>Pink Tint:</strong> 96% agree it provides nails with a natural glow** <br /> &bull; <strong>Easy Glide Brush:</strong> Exclusive shaped brush for quick, even application
---