go to content
essie
nail polish
base & top coats
nail care
virtual try on
nail art
tips & inspirations
about us
authorised retailer
sitemap
faq
contact us
terms of use
privacy policy
facebook
pinterest
youtube
instagram
tips & trends
how long does it take nail polish to dry?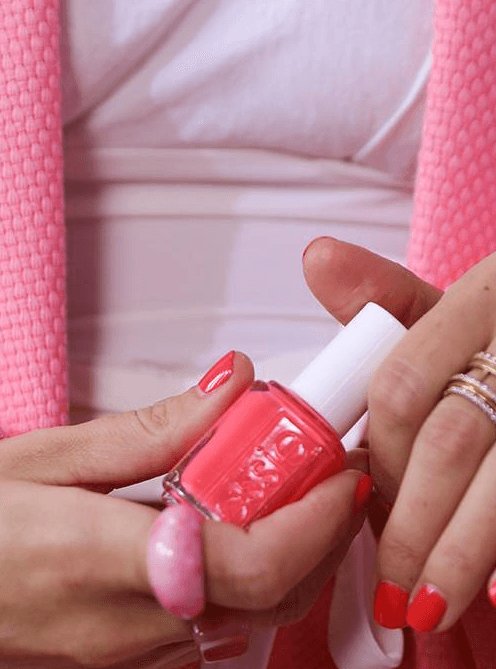 if you're anything like us, many a carefully-painted mani has been ruined by a rogue smudge or poorly timed scrape. it doesn't matter whether you paid a professional or laboured over your fingertips yourself: it hurts. you'll see it happen in slow motion – the moment your keys, wallet or other miscellaneous object brushes past your still-damp, freshly painted nails. before you know it, that colour you took ten minutes to pick out is well and truly botched. if this sounds like you, we're here to help. in this guide we'll spell out how to dry nail polish quickly so you can say goodbye to smudged manicures for good.
how to dry nail polish quickly
there are no hard and fast answers to the question 'how long does it take for nail polish to dry?' it comes down to a few factors which can make or break the quality of your mani and impact whether your nails dry down quickly or stay damp all day. before you set out on your next nail painting session, consider:
the type of nail polish you use: is it a gel polish, a fast drying nail polish, a pigmented or sheer formula?
base and top coats: both can make the difference between a mani that lasts a day or two and a salon-quality look from home.
application method: when using a high-quality polish, you'll find the formula is pigmented enough that you only need to apply very thin layers that dry quickly without compromising on colour payoff.
a clean, dry foundation: for the best fast drying nail polish application, make sure nails are clean, dry and free of oils and moisturisers first.

depending on these concerns, you could be looking at a five minute or five hour dry time. although as polishes pass their use-by date and become thicker they may never dry down completely. that's why it's important to keep an eye on aging polishes in your collection and replace them after they're past their best. now, let's unpack how to dry nail polish quickly so you can get back to your day or night with a compliment-worthy manicure.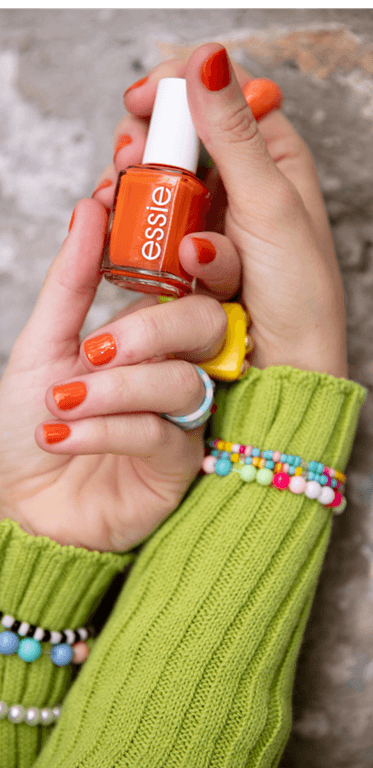 tip 1: all about the base
base coats are the key to fast drying nail polish and a long-lasting manicure. a real multi-tasker, base coats help keep your nail health in good condition and make the pigment of your nails pop. a lesser-known talent of base coats is their ability to speed up the drying process. for those seeking fast drying nail polish, a good base coat ensures successive layers of nail polish are applied evenly across the nail, supplying your manicure with a sturdy foundation. like any good painter, you want a clean canvas to start off with - but you should also be sure to seal the canvas once the painting is done. this is where top coats come in.
tip 2: trust in your top coat
a top coat will work wonders for your manicure's longevity and vibrancy. to continue the painting metaphor – much like a gloss brings out the colour saturation in an oil painting, a top coat will bring your manicure to life like no other step. with a good top coat in your arsenal, your manicure will be touch-dry and ready to roll in minutes. the essie gel couture top coat is a high shine seal for your manicure. with a simple brush your polish could be dry in only a few minutes.
tip 3: reach for quick dry polish
fast drying nail polish can be a godsend – whether you're running late but just need a quick colour on your nails to top off your look, or you simply don't have the patience for standard nail polish dry times. available in a variety of shades to complement your vibe, essie's quick dry nail polish expressie is the perfect partner in crime for those on the go or always rushing. expressie's vegan formula dries in about a minute, saving you time and stress on your next manicure.
tip 4: put your mani on ice
allow us to get life hacky for a minute – icing your manicure may sound unusual, but nail techs swear by this technique.
step 1: fill a bowl full of cold water and perhaps a sprinkling of ice cubes.
step 2: submerge your nails for 3-5 minutes.
old wives' tale or the answer to fast drying nail polish? there's only one way to find out. the process of chilling freshly painted nails thickens the formulation, helping it along the way to set - however take caution when towel drying hands afterwards. we recommend hitting your nails with a blast from your hair dryer on the cold setting, just to be sure.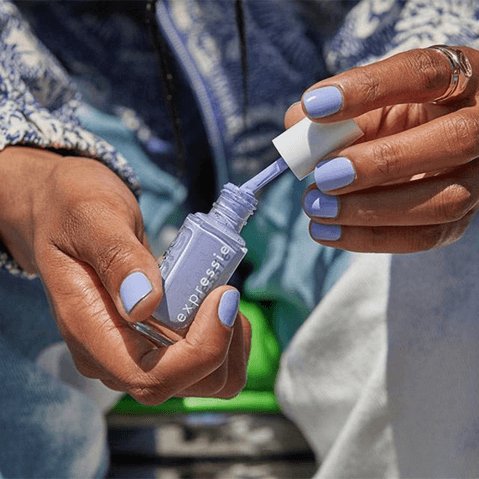 does essie nail polish dry fast?
let's walk through each step of your manicure. on a clean, dry nail, your base coat will take 1-2 minutes to dry. each thin coat of essie polish (we recommend applying two coats) will take just a few minutes to dry. finally, you can expect your essie top coat to dry within 1-2 minutes. all up, that's less time than a coffee run for a long-lasting mani that won't smudge the moment you reach for your keys. armed with our tips, a smooth, flawless and glossy manicure can be yours in a flash!
now you know essie's recipe for fast drying nail polish, it's time to get to know top coat nail polish.
---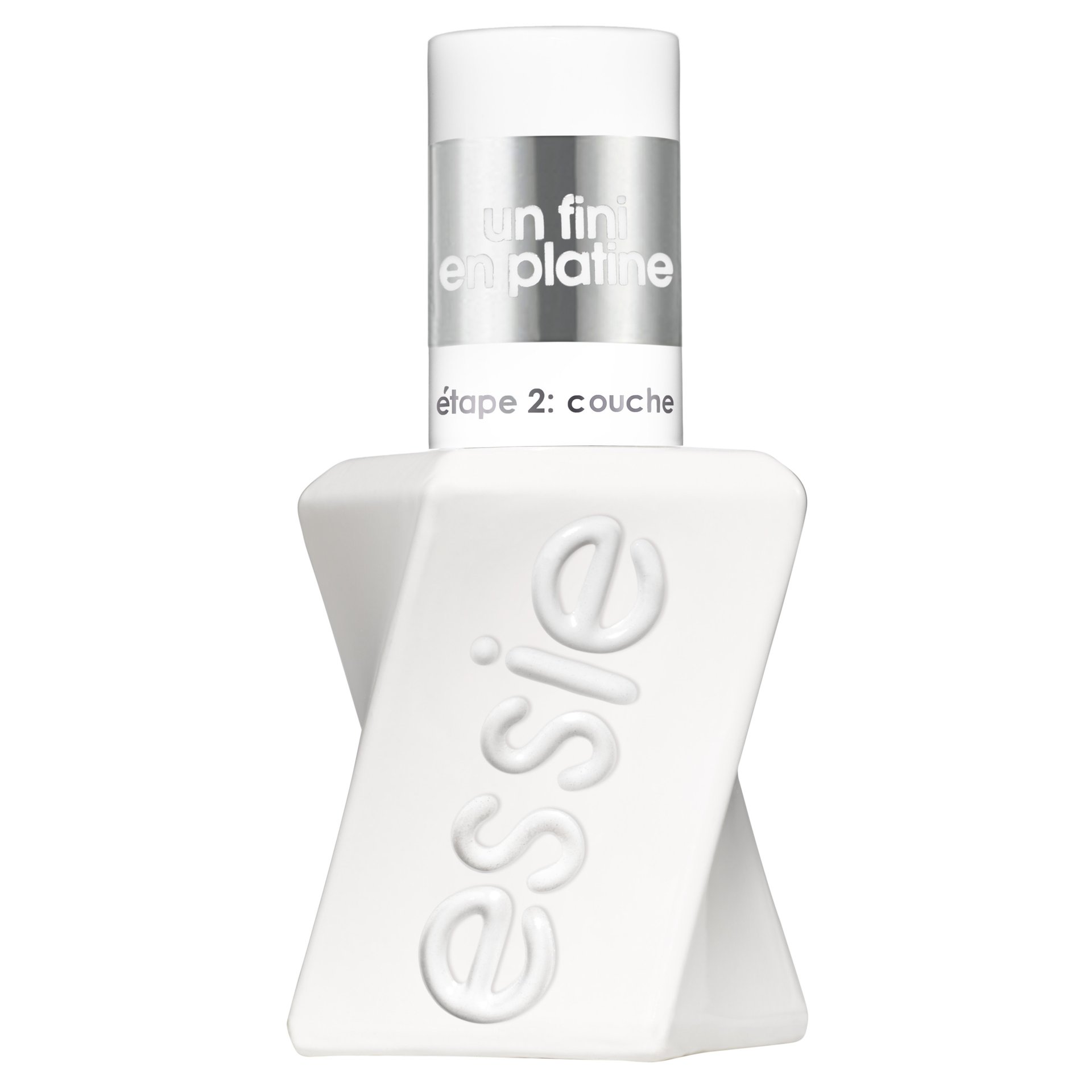 top coat
gel couture top coat
<h1 style="font-size:19px;">gel couture quick dry top coat nail polish</h1> <h2 style="font-size:16px;"><strong>salon-worthy manicures with gel couture quick dry top coat</strong></h2> <p>say goodbye to waiting for your nails to dry and hello to stunning, long-lasting nail colour with the gel couture <strong>quick dry top coat</strong> from <a></a><a href="/">essie Australia</a>. Whether you're a nail enthusiast or simply looking for a long-lasting manicure, the gel couture top coat is a game-changer. this gel top coat is designed to provide a flawless, gel-like finish while delivering a high-shine, salon-quality result. definitely a must-have addition to your<a href="https://www.essie.com.au/at-home-manicure-guide"> at-home manicure</a> routine!</p> <h2 style="font-size:16px;"><strong>unleash the power of essie gel couture quick dry top coat</strong></h2> <p>why this top coat is so good? it has a quick-drying formula that saves you time and delivers a glossy, gel-like finish. the iconic essie gel couture<strong> quick dry top coat</strong> polish also helps seal your nail colour and provides chip-resistant wear that lasts up to 14 days.&nbsp;</p> <h2 style="font-size:16px;"><strong>why we love the essie gel couture quick dry top coat:</strong></h2> <ul style="list-style-type: disc;"> <li><span>a salon-quality, vegan and 8-free formula without formaldehyde </span></li> <li><span>provides flawless coverage along with outstanding durability </span></li> <li><span>designed exclusively with an easy glide brush for quick, even professional application on nails</span></li> </ul>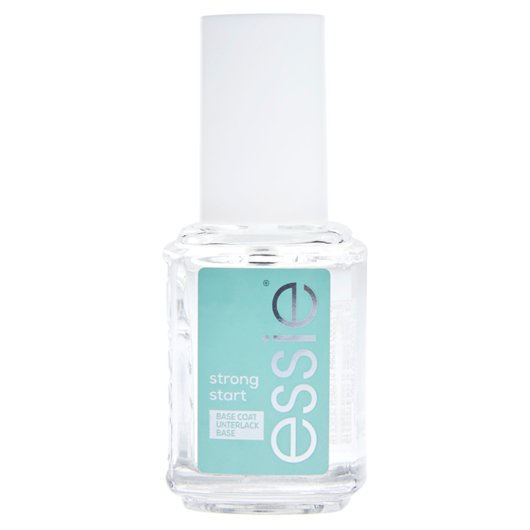 nail care
strong start
<h1 style="font-size:19px;">Strong Start Nail Strengthening Base Coat</h1> essie Strong Start nail polish base coat is our champion of strengthening. The strength boosting formula, infused with biotin, helps reinforce weak and brittle nails.<br /> <br /> The result: a beautiful manicure due to stronger nails being more resistant to peeling, chipping and breakage. essie brings you all your favourite shades, from versatile neutrals to show-stopping icons. With a formula and a brush that takes advantage of the very best salon-professional technology.<br /> <br /> <span style="background-color: #ffffff; color: #333333;">Professional nail expert from the US, since 1981. Essie aims to inspire a love for the manicure experience with a wit and style that touches the hearts of women everywhere. Essie is the go-to nail brand for beauty professionals, industry insiders, celebrities and fashion icons around the world. As the colour authority, Essie is centre&nbsp;stage on runways around the world, offering highly-anticipated colour collections that drive trends season after season. The salon-quality formula and catchy, whimsical names has led to the creation of more than 1,000 shades. Essie is a leader in nail luxury, committed to high-quality standards with an award-winning line of polishes and nail care products for every woman and salon professional. Since its introduction by Essie Weingarten, Essie has delighted the colour-obsessed with a love shared all over the world.</span><br style="color: #333333; background-color: #ffffff;" /> <br style="color: #333333; background-color: #ffffff;" /> <span style="background-color: #ffffff; color: #333333;">Goes well with</span><br style="color: #333333; background-color: #ffffff;" /> <span style="background-color: #ffffff; color: #333333;">Any Essie nail colour and top coat</span>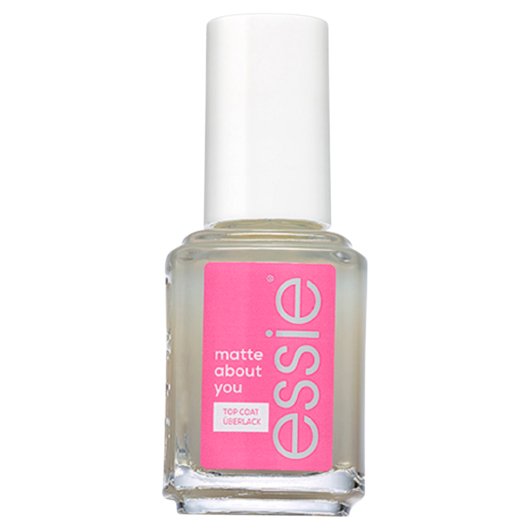 top coat
matte about you
<style type="text/css"> p.p1 {margin: 0.0px 0.0px 0.0px 0.0px; font: 12.0px 'Lucida Grande'; colour: #000000} </style> <h1 style="font-size:19px;">Matte About You Matte Top Coat </h1> <p class="p1">Instantly transform colour from high-gloss to matte with this essie&reg; matte about you top coat.<span class="Apple-converted-space">&nbsp; </span>The smooth, matte finish can be used with any essie enamel polish.</p>
---